Partnership
PostReality partners with media, advertisement, and real estates agencies to bring AR into customers' hands. With our partnerships, we offer a revenue sharing system, bulk discounts on white label apps, and more.

MEDIA AGENCIES
We publish branded AR apps for media agencies to manage client accounts and create AR experiences.

ADVERTISEMENT AGENCIES
We create interactive AR ads for magazines, mall advertisements, billboards, and expos booths.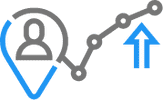 PACKAGING AGENCIES
We attach AR messages and calls-to-actions onto product packaging to communicate with customers prior to the purchase.